Spelling List #4. Theme? Pretest is Tuesday. Study...or not.
The ballet seems to be the most difficult form of dance.
Will you teach me your painting technique?
The long hike left us weak with fatigue.
The young actor was nervous about his debut.
She is too tall to be called petite.
An amateur boxer does not compete for money.
The bride carried a beautiful bouquet of flowers.
A massage will relax those tight mussels.
His antique chair is hundreds of years old.
His directions were so vague --"Go for a little bit, untill you see a tree..."--that we got lost.
Please sit still while I finish your portrait .
The bus crawled along the crowded boulevard.
Heavy rains filled the reservoirs, like Lake Nacimiento.
The storm blew debris all over the yard.
The dress boutique is having a sale.
The view from the plateau is splendid.
I have a coupon for a $1.99 pizza.
The train leaves the depot at noon.
Our names were engraved on the plaque by the door.
Ponyboy had experienced too much to be called innocent or naive
The criminal's actions were caught by the store surveillance camera.
It was just a routine day nothing special hapenned.
The singing ensemble made beautiful music.
The road construction created a detour.
Vocabulary Crossword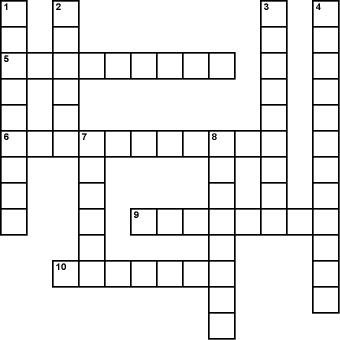 Across
5. Uncertain, hesitant.
6. Obvious, easy to see.
9. Lazy.
10. Disquiet.
Down
1. Complicated.
2. Harmless, gentle.
3. Calmness, coolness under pressure.
4. Causing great pain.
7. Gloomy and resentful
8. Out of date.