Tom Sawyer Vocabulary and Study Questions 3/26/12.
Vocabulary.exacting, vindictive, genial, regalia, mirth, rapt, yearn, melancholy, nigh, saunter
His parties were popular, because he was a very ______ host, who seemed to like everyone. POS: Synonym:
New Year's Eve is usually an evening filled with _______ and celebration. POS: Synonym:
He was such an eloquent speaker, his audience was _____, completely forgetting about everything else. POS: Synonym:
The schoolmaster became more and more _________ as finals approached; expecting more and more out of the students. POS: Synonym:
Tom had two reasons to be _____________; the murder and Becky. POS: Synonym:
Tom joined the club only because they had cool uniforms and he wanted to wear the _____ in the parade. POS: Synonym:
The Bible says not to be ___________, but to "turn the other cheek." POS: Synonym:
He _________(ed) out of the interview, confident he had the job. POS: Synonym:
All her life she ____________(ed) to be an Olympic soccer player. POS: Synonym:
One look at her face told me trouble was __________, and I had better get out of there. POS: Synonym:
Study Questions.
Chapter 18
How did the boys get back from the island?
"It ain't much -- a cat does that much." Does what?
"There must 'a' been an angel there." Who's talking about what?
What makes Tom feel like the "guiltiest of villains"?
"Shut up, Sid." Who's talking about what?
Why does Tom think he can do without Becky now?
Who is Aldred Temple and where have we seen him before?
Why does Becky dump Alfred?
Chapter 19
How does Aunt Polly find out Tom's dream was a sham?
What makes her forgive him?
Chapter 20
What was Mr. Dobbins' (the schoolmaster) secret ambition?
What kind of book does Becky rip?
Why does Tom say that Becky will get caught, even if he doesn't tell on her?
Why was Tom not at all upset about being whipped for the ink in the spelling book?
What were Tom's punishments for the teacher's ripped book?
The fact that Tom has started thinking more about others than himself (examples: his remorse after lying to Aunt Polly, the way he took Becky's punishment) is evidence that Tom might be...
Chapter 23


Which of these quotes comes from the scene depicted at right? a) "Why, Tom Sawyer, we wouldn't be alive two days that got found out." b) "Thomas Sawyer, where were you on the seventeenth of June, about the hour of midnight?" c) "I reckon he's a goner." d) "Little hands, and weak--but they've helped Muff Potter a power..." e) NOTA
"Little hands, and weak--but they've helped Muff Potter a power, and they'd help him more if they could." (p151) Why is this ironic?
Which of these did the prosecution NOT use as evidence that Muff did it?
At the beginning of the trial, what was Muff's lawyer's strategy for defending him?
"Tom was out late that night and came to bed through the window." (p151) Where did he go?
What happened when Tom testified?
Chapter 24/25 (slang) "slathers" (p158) (slang) "comb a body" (p160) (dialect) "shadder" (p161) (slang) "tackle" (p163)
If the lawyer promised not to reveal Huck's name, why is Huck still worried about Injun Joe?
Picture A was included with chapter 24. Of whom is it a picture?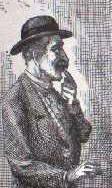 Which of these was the original caption for Picture B? a) Injun Joe's Final Revenge. b) Tom Dreams. c) The Return of Injun Joe. d) Injun Joe's Latest Victim. e) Tom and Injun Joe.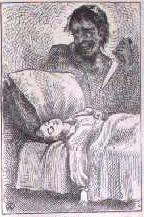 ---

Huck's dreams for the money show that he is thinking about preparing for the future. True or False? Why?
Why does Huck think it wouldn't be smart for him to save any money they might find?



Spelling List #17.
1. personnel 2. personal 3. referral 4. occupation 5. recommend 6. occurrence 7. committee 8. essential 9. broccoli 10. summary 11. trespassing 12. possession 13. accommodate 14. embarrass 15. affectionate 16. harassment 17. bulletin 18. cancellation 19. possibility 20. necessary 21. renaissance 22. acclaim 23. eventually 24. dilemma



MARK TWAIN PARAGRAPHING -- Read over this list of disorganized facts about Mark Twain. Decide how they should be grouped. Write the numbers of the sentences in what you think is the best order and best grouping (two or three paragraphs). Write out the resulting paragraphs, indenting and punctuating as needed. You may add and subtract words as you see fit. Make sure you include all the information given.
DUE FRIDAY, 3/30/12.
---
Mark Twain died in 1910 when Halley's comet appeared.
He wrote Tom Sawyer and Huckleberry Finn. These are based on his boyhood in Hannibal, Missouri, along the Mississippi River.
His real name was Samuel Langhorne Clemens.
He was born in 1835 when Halley's comet appeared.
He became famous as a humorist later in life.
Roughing It is based on his trip to the Nevada silver mines.
One of his early jobs was a pilot on a Mississippi steamboat.
His pen name came from a call the river pilots used to indicate the depth of water.
When he was younger, he was a newspaperman and traveled to other parts of the world.
Innocents Abroad is based on his travels in Europe.
He went on many speaking tours later in his life.
Two other books he wrote are A Connecticut Yankee in King Arthur's Court and The Prince and the Pauper.
He was born in Missouri, in the heart of America.
But, he made his permanent home in the East.
People still read his books and quote things he said.